| | |
| --- | --- |
| If you have troubles viewing this newsletter, please click here | |


Have a Joyous Christmas

The meals are prepped. The cocktail drinks are ready. The music is playing. Artyzen Club opens its door to welcome the magic of Christmas and New Year seasons. We have decked out the lobby and halls with whimsical lights and ornaments to compliment the holiday spirits. No matter your culinary preferences are, our festive menus offered in the Green Bar and Dining Room will be a feast for your palate.

While you are packing for your winter gateways, we have already identified some best spots for your next cherry blossoms trip to Japan, as well as activities that will add fun to the itinerary.  
Winter Warmer from the Dining Room

The desire to tuck into hot, hearty dishes goes up when the weather gets cooler. The Dining Room has prepared a list of all-time favourite Chinese comfort dishes to warm you up, including Stewed Mutton with Bamboo Shoots and Black Mushrooms; Baked Fish Intestines with Eggs; Braised Pork Belly with Taro in Casserole and an array of clay pot rice.

Cozy up with your family for dinner at the Dining Room this Winter Solstice Festival which serves heartwarming Cantonese delicacies.

Feast to Prosperity

To welcome the Year of the Rat, our chefs have meticulously prepared a selection of auspicious Spring Dinner menus for enjoyment with your family, friends and business associates. Available from HK$6,088 per table for 8 pax and more, the Spring Dinner Banquet offered at the Jade Room or the Dining Room will be perfect to ring in the new year with a blast.

From January onwards, the Dining Room will be offering a variety of CNY specialties and dim sum that symbolise good fortune and lucky connotations in Chinese culture, such as Braised Pig's Knuckles with Black Mushrooms in Preserved Sauce; Stewed Dried Oysters with Mushrooms and Black Moss. Limited period offer.

For reservations, please call 2780 2100
Wimbledon Champion Conducts Tennis Clinics

Whether you want to learn tennis, knock the rust off, or simply beat the champion, Jonathan Marray, Wimbledon Men's Doubles Champion 2012 will give plenty of personalized feedback, attention and hitting time at these small group tennis lessons.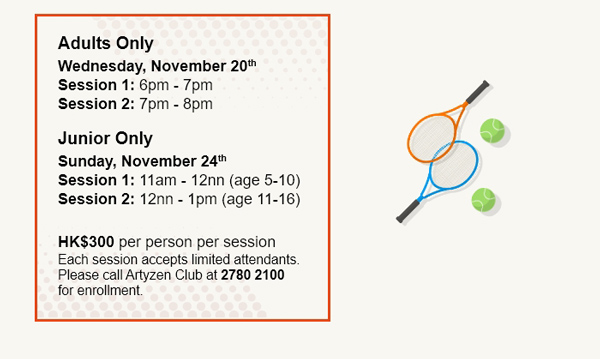 Shinjuku Gyoen
Just 5 mins walk from Shinjuku-Gyoemmae Station, this massive garden offers more than a thousand cherry blossom trees of over a dozen species. 

Ueno Park
The most crowded spot to view cherry blossoms, and popular for Hanami (cherry blossoms viewing party) in both day and night.

Chidorigafuchi
Enjoy one of the most picturesque cherry blossom sites in Tokyo by paddling on boats at Chidorigafuchi - the moats of former Edo Castle around Kitanomaru Park.
Image by Martin Hladik / Getty Images

Tokyo Museum

13-9 Ueno Park, Taito-ku

A must-see for fans of Japanese art, history and culture, the museum is the oldest art museum in Japan. Highlights of the permanent collection include some exquisite antique kimonos, terrifying samurai gear and swords, and elegant calligraphy dating back more than a thousand years. The main building can take the better part of a day, and there are also other ticket-required special exhibitions held in the annexes.

Insider tips: In good weather, don't miss the Japanese garden behind the main building; on the ground level at the back of the building where there are temporary exhibitions occasionally.

Kookai Cooking Studio

4 Chome-4-14 Tsukiji, Chuo City

Located conveniently in Tsukiji, and widely known as Japanese "Food Town", the studio unveils the beauty of Japanese cuisine, and showcases the "Omotenashi" from Japanese homemade style cooking. Kookai offers a perfect group activity to experience the amazing and unique Japanese food culture!

Insider tips: Take home a pair of Japanese cooking chopsticks as gift after the cooking class. Reservations required via Artyzen Club Concierge.
Pierre Gagnaire Tokyo

ANA InterContinental Tokyo, 1 Chome-12-33 Akasaka, Minato City

Named after the renowned Chef Pierre Gagnaire's, and has been awarded two Michelin stars since 2010, the restaurant features spectacular views of Tokyo, and the elegant décor provides the perfect setting for Gagnaire's signature contemporary French cuisine, combining exceptional presentation and unique flavours.

Insider tips: Every guest will receive a complimentary glass of welcome champagne when reservations are made through Artyzen Club Concierge.

Contact your Artyzen Club Concierge at 2780 2921 to begin your journey today!
You can unsubscribe if you wish to stop receiving email newsletters